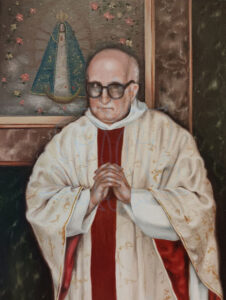 Mons. Presas was born in La Plata, Argentina in 1912, and was the son of Spanish immigrants. While still a child he moved to Spain with his family. Having completed his ecclesiastical studies in the Pontifical University of Comillas, he was ordained a priest on July 25, 1938 in Spain, but he carried out all of his priestly ministry in Argentina- in La Plata but mostly in Morón. He was a great historian both of Morón, mainly of its Marian invocations, but above all, of Our Lady of Luján, to which he dedicated his best efforts. He was a disciple and friend of Dr. Raúl Alejandro Molina, from whom he learned in part the exactitude of the historical method. He was enamored with Our Lady of Lujan. His work is such that he has been recognized as the greatest of historian of Lujan by highly accredited historians[1].
His works, between books and pamphlets on Our Lady of Lujan, are vast:
Our Lady of Lujan. Critical-historical study on the place and date of the miracle and transfer of the Holy Image (1973), Our Lady of Luján and Sumampa. Critical-historical study 1630-1730 (1974), later expanded for a new edition in 1980 (which is the one we present here), Our Lady of Luján. The Residence of the Miracle (1977), Luján before science and faith (1978), Going to Luján is a duty (1979), Our Lady of Luján in art (1981), Luján. The Marian city of the country (1982), History of Our Lady of Luján (4 editions: 1984, 1988, 1991 and 1995), Jorge María Salvaire. The Apostle of the Virgin of Luján (1990), History of Marian Luján- 1630-1992 (1993), Annals of Our Lady of Luján (4 editions: 1982, 1987, 1993 and 2002), Doña Ana de Matos. The lady who founded Luján with the Virgin (5 editions: May 1990, October 1990, 1991, 1997 and 2004), El Negro Manuel (4 editions: 1985, 1989, 1991 and 1997), Our Lady of Luján, Mother of the Argentine People (1997), The miracle of Luján – year 1630 (two editions: 1977 and 2003), Luján and the Holy Trinity. Historical-theological study (2001), The Marian Lujan (2002), The Place of the Miracle (4 editions: 1977, 1980, 1994 and 2003), The Miracle of Lujan (1997), Luján: The miracle and its experience (2 editions: 2000 and 2003), Of Lady of Luján. Its capital status (2003).
Mons. Presas died on April 29, 2005 and is buried in Morón, in the hermitage of Our Lady of Buen Viaje, of which he was also a historian.
[1] Thus, for example CAYETANO BRUNO at the Presentation of the work of Presas Nuestra Señora de Luján. The miracle room. Critical-historical study, Buenos Aires 1977, p. 10.